Survey school board sworn in
Published On: August 28, 2020, 12:35 am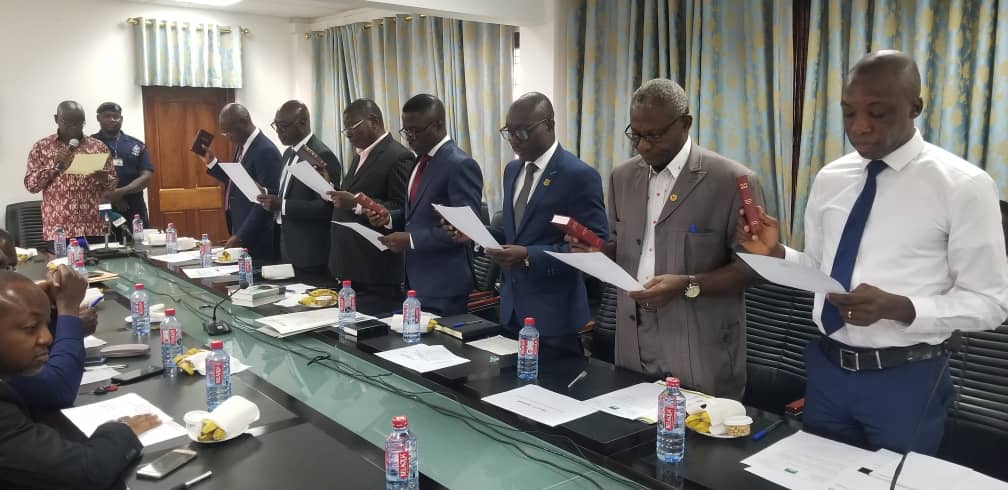 The board of the Ghana School of Survey and Mapping (GSSM) has been reconstituted, and its members charged to be pragmatic to resolve infrastructure and other challenges confronting the institution.
At the swearing-in of the GSSM board in Accra yesterday, the Minister of Lands and Natural Resources, Mr Kwaku Asomah-Cheremeh, also stressed the need for the board to prioritise capacity-building initiatives to produce high quality survey and mapping professionals for the country.

"I am aware of the infrastructural challenges the GSSM currently faces, and I want to urge the members of the board to lend their unflinching support to every effort aimed at resolving such setbacks," he said.
Board
The seven-member board is chaired by the Technical Director for Lands at the Ministry of Lands and Natural Resources, Mr James Ebenezer K. Dadson.

Other members are the Deputy Executive Secretary in-charge of Corporate Services at the Lands Commission, Mr James Ofori-Boadu; an official from the Survey and Mapping Division of the Lands Commission, Mr Yaw Aboagye-Kyei; and the Principal of the GSSM, Mr Daniel Adomako Agyemfrah.
The rest are a lecturer from the Geometric Engineering Department of the Kwame Nkrumah University of Science and Technology (KNUST), Dr Anthony Arko-Adjei; Mr J.C. Acquah of the Ghana Institution of Surveyors, and a representative from the GSSM Student Representative Council (SRC), Mr Richard Kwaku Baah.
Mr Asomah-Cheremeh said the GSSM was one of the critical institutions that needed to be supported to produce the technical human resource needed for national development.
He urged members of the board to bring their knowledge and expertise acquired in various fields over the years to bare on the institution to turn around the fortunes of GSSM.

GSSM challenges
A board member, Mr Agyemfrah, said one of the greatest challenges confronting the institution was inadequate land for expansion.

He said part of the school's land had been ceded to other entities, making it difficult for expansion of facilities.
"Portion of the school's land has been given out to other institutions to carry out their projects, and this has compressed the space for expansion works. We need a bigger land somewhere to expand the school," he said.
Mr Agyemfrah also said the lack of modern equipment was a major challenge to the school.
"It is a technical school and needs modern equipment, including the Global Positioning System (GPS), and they are so expensive, but the school's budget cannot meet this demand," he said.
He said the space and resource constraints had affected the school's enrolment over the years, and called for support to reverse the trend.